Happy Friday!
This week I "attended" virtual CES, what I discovered is the biggest trending takeaway is the fact the event happened at all. Holy sh*t. The world's largest consumer technology show actually transpired in the middle of a pandemic, thanks entirely to the rapid adoption of digital tools.
We experienced "10 years of social innovation in the last 10 months." And much of it is here to stay.
Read my recap, featuring Pandemic-Tech! Wi-Fi 6E! Smart Glasses! Robots! And more:
CES 2021: PANDEMIC-FUELED TECH TRENDS AND MORE
Note: Someone please buy me one of these pillows with a moving cat tail – thanks.
Give Your Social Team Some Love
As we come up on the one year anniversary of the pandemic lockdown, America's long-overdue awakening on systemic racism, social network boycotts, more deaths per day than 9/11, and the most divisive election of our generation rife with conspiracy theories and cultural conflict, social media managers haven't had a moment to catch a breath. And they are burning out, especially as "crisis mode" continues in 2021 with the assault on the Capitol and schismatic culture crossing into brand channels.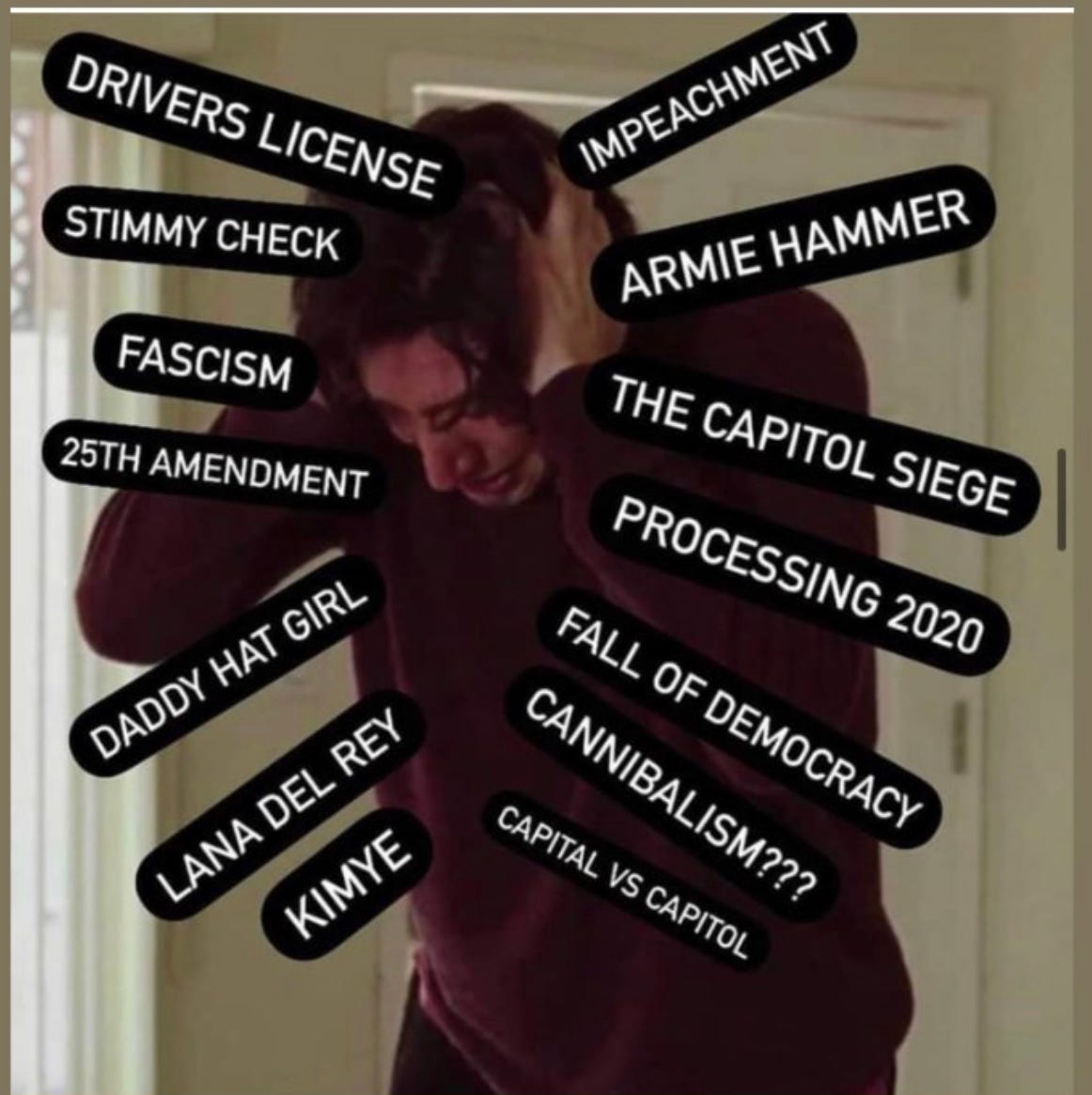 There's a saying "don't read the comments," but what if it's your job to read the comments? Social teams certainly aren't the only ones experiencing stress these days, but if you can, give your social team a (virtual) hug this week. And consider more: respect for their role, a raise, mental healthcare, and coverage so they can actually unplug during PTO.
Some recommended reads…
OneZero – The Social Media Managers Are Not Okay: "Social media managers are making important — and very public — decisions all the time. They need to respond to news and conversations quickly to be effective. The public voice and image of companies, media outlets, public figures, and institutions are in their hands at a very delicate time."
Digiday – Social Media Managers Grapple With Burnout: "There's only so much trauma one single human brain can process, and Twitter is like an always-on trauma machine. It takes a huge mental toll to consume this content, day in and day out."
Harvard Business Review – 8 Ways Managers Can Support Employees' Mental Health: "Be aware that shame and stigma prevent many employees from using their mental health benefits to seek treatment, so normalize the use of those services."
Here's the key stuff I'm tracking this week…
The State of Trust: The latest Edelman Trust Barometer 2021 came out this week and reveals that Americans trust CEOs more than their own government. There's an epidemic of misinformation (aka "infodemic"), which has driven trust in news sources to an all-time low. Social media was the least trusted, at 35%, followed by owned media (41%), and then traditional media, which saw the largest drop in trust, to 53%.
Can Social Media Ever Truly Be Body Positive? The body positivity movement of early 2020 took a pause when lockdowns started and folks started spending more time in social feeds with an "endless carousel of beautiful faces and perfect bodies, wrought by the extraordinary cultural power of increasingly shrewd algorithms." Rebecca Jennings wrote a 4,000 piece about how we got here and where we're going. Key quote: "The more body positivity the algorithms hurl at us, the more we're reminded how much we're supposed to care about the way we look."
Vaccine Selfies Are Coming: The vaccine selfie (aka "vaxxies") are already a fast-growing trend among frontline health-care professionals, and as vaccines become more accessible for all, look for them to spread across your feeds. Although there has already been criticism of virtue signaling, one doctor says, "There's more value in building public confidence in the vaccine than there is harm in making people feel left out. We're all just so exhausted by [2020], and this is a nice bookend to give folks a sense of optimism for the upcoming year."
TikTok of the Week: @ad_god plays the games in those unskippable pop-up game ads and shows you what they're really like.
Insta of the Week: @zillowgonewild curates the best of crazy home listings.
Quick Hits:
See you on the internet!
Greg