Happy Friday and Happy Birthday this week to Twitter!
Now entering age 12, here's a look at its initial designs at launch when it was an SMS-only network and not the mouthpiece for the leader of the free world.
Here's what's up around the social web this week..
Hologram David Bowie Is Coming to Your House: Ground Control to Major Tom.. This week the David Bowie Archive announced plans for both augmented and virtual reality 'recreations' of the touring show – including a a series of "audio-visual spaces" with 3D scans of Bowie's artifacts, the ability to try on his costumes and even the ability to project Ziggy himself right into your room. As Engadget wrote, "Think of it as paying for any other exhibition ticket, only with more flexible visiting hours and no other guests getting in your way." Sign us up!
Deepfakes are Coming: A recently released study indicates that DeepFakes, a neural network that creates fake videos of real people, represents one of the largest threats posed by artificial intelligence. Recent examples of this in action include Nick Cage playing Lois Lane and Jordan Peele as Barack Obama sharing his opinion on Black Panther ("Killmonger was right") and calling President Donald Trump. It's not quite perfect, but getting more realistic by the day. With the election season upon us, it will be important for social networks and media organizations to spend more time learning how to spot deep fakes. And that goes for consumers, too. For starters, here are 5 Ways to Tell if You're Talking to a Bot.
Robots are Taking Artists' Jobs Too: This week the MIT Technology Review had a feature on robots who paint. The 2018 Robotart Competition featured 100 different robot-created artworks including abstract, impressionistic, paint and ink designs. The winning automaton this year is called CloudPainter and one of its winning images was created by a team of neural networks, AI algorithms, and robots. Does robot art invalidate human generated art? That's a discussion for your own social feeds.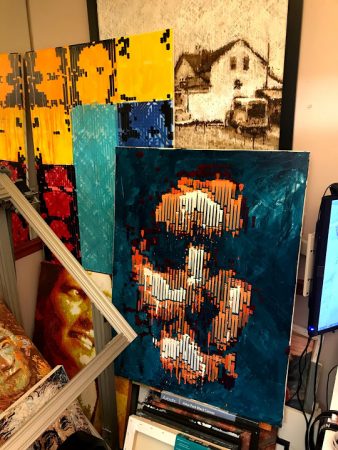 New Emoji for Ur Texts: Emojis continue to explode in popularity — more than 700 million emojis are used on Facebook posts daily, and more than 900 million emojis are sent without accompanying text every day on Messenger. And this week Apple previewed 70 new emojis that will arrive in an iOS update later this year, including new hairstyles  (curly hair, red hair, gray hair and no-hair) animals, (parrot, kangaroo, lobster and peacock), food (mango, lettuce, cupcake and mooncake) and smileys (party face, pleading face, old face and a face surrounded by hearts). There will even be superhero emojis. Never happy, the internet is still demanding emoji for spiders, chocolate milk, and the Tardis. You just can't please everyone. Except maybe @GoatEmoji1.
Social Media Stranger Hunting: A woman bought a projector at Goodwill in Georgia, discovered it was full of slides, and sparked a national news cycle looking for the family in the photos. In the social media era, she thought she just may find them. And then the internet FOUND THEM!!  If you're into this sort of thing, we highly recommend checking out The Trachtenburg Family Slideshow Players, a family band who specifically seek out discarded slides and then write music about the adventures they imagine are happening in the photos. Dad plays piano, daughter plays drums, and Mom runs the slide projector. Naturally. Our favorite videos are "Look at Me" and "Mountain Trip to Japan, 1959."
See you on the Internet!
The Digital + Social Team