YouTube Testing New Virtual Background Options: Google is using its neural network to improve the ability to recognize hair, faces, glasses and shoulders, which is helping a beta group of YouTube Stories users swap out their background images with nothing more than a phone. It's called the "video segmentation tool" and gives us a glimpse of real-time production that will be coming to social media in the near future. Want to send that selfie video from the beach? Simply click the beach background option – no special greenscreen or post-processing required. (LINK)
Déjà Vu for your Déjà Vu: Sometimes we all get that feeling that we've experienced this all before. And that you know what will happen next. Except new research looked into the feeling of premonition that often accompanies déjà vu, using lab experiments that tried to induce the sensation and tracked whether subjects really did know what would come next. As it turns out, déjà vu didn't seem to bestow the ability to predict the future. But you already knew that, right? (LINK)
More Augmented Reality Innovation: Last week we shared news about Ghostbusters AR and Harry Potter: Wizards Uniteare launching soon. This week Jurassic World Alive was announced, following the same formula as Pokemon Go, where players will walk around the physical world collecting and interacting with characters. This week Nickelodeon announced adding AR features to its Sky Whale mobile game and a new AR game, Do Not Touch. In other AR news this week, a collective of eight internet artists transformed the Jackson Pollock room in the New York City Museum of Modern Art into their own augmented reality gallery — without the museum's permission. At this pace, Augmented Reality is shaping up to be one of the mainstream tech breakouts of 2018.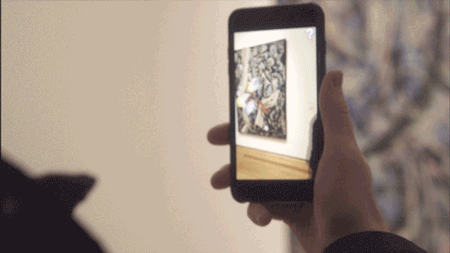 7 Twitter users are suing President Trump for blocking them:After being blocked from the @realDonaldTrump account, Twitter users are suing the President in a case that will test how courts apply the First Amendment to the social media accounts of public officials, whether such accounts constitute a "public forum" or whether public officials should be able to block constituents or critics. U.S. District Judge Naomi Reice Buchwald suggested that the case should be settled and that Trump should mute rather than block his followers. As we consider the wider impacts of social media post-Trump, this will be a fascinating case to watch.  (LINK)
Ramen Fork is Here! The company that invented ramen rolled out a new device that gets rid of your slurping noises. The smart fork connects to an app and plays a noise that sounds like a toilet flushing. FINALLY.